Aquaworld specializes in concrete swimming pool construction as well as spa construction. We can work with you on the design, construction and maintenance of a swimming pool of any shape or size. Pool and spa combinations, infinity edge, wet edge, Aquaworld can cater for the construction of any pool design or concept you require.
With 25 years of experience , being a registered builder and member of SPASA and master builders , you can be assured of a quality outcome every time.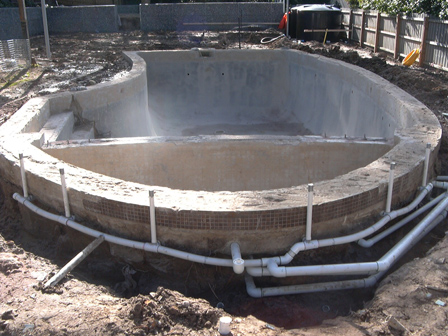 Aquaworld is a trusted pool construction consultant. When deciding on a pool design the consultation process is the most important. When you meet with Shaun Jervis, he will come to your site to discuss the needs and the vision that you have for your pool.
An evaluation of the land will be conducted to discuss design of the pool, the budget to construct and more importantly the reason behind the investment.
A lap pool for exercise, a pool and spa combination for year round enjoyment, plunge pool for smaller areas, a freeform pool to complement a more natural setting. Whatever the reason, Aquaworld will be there to help you decide.
Recommended pool designer, Aquaworld Pools and Spas will take your dream and create a design that is personalised for you. We will advise you of all the options in materials, filtration, heating, lighting, cleaning and accessories, as well as all of the state of the art technologies and automation now available.
Aquaworld can also offer you a service that will give you a complete landscape design, with working drawings and computer imaging, that includes plants, materials and even a maintenance schedule. Engineered drawings and specifications will be obtained, as well as all permits and insurances. A SPASA contract is used for Your peace of mind.
Aquaworld pool care caters for all your before and after care services. Once the pool has been created and installed, Aquaworld does not stop there. We offer an after care service, to maintain your pool so it will last for a lifetime.
We understand that families have busy lifestyles, and do not want the hassle of maintaining a pool. So leave your pool care to the experts, we will look after it for you.
Our service can be tailored to your needs, weekly, fortnightly or monthly service. We provide all the chemicals and equipment needed.